ATTENTION PRETZEL LOVERS!
There's a new party pleaser on the scene. Now, you can turn any occasion into a full-blown bash by letting Auntie Anne's supply the snacks. From party trays to pretzel buckets, our freshly baked delights are guaranteed to be an insta-crowd pleaser.
Hit us up when you're ready to place an order. We'll make sure the pretzels are party ready. Find a store near you and order Auntie Anne's catering.
Order Now
"Auntie Anne's really gets this crowd excited! This is a great afternoon snack and there are never any leftovers!"
Everyone loved it! So good. Worked great for a pretzel and beer event. Will order again.
"This will get your customers' attention! They loved the individually wrapped pretzels and dipping sauce. Warm and arrived with the famous inviting Auntie Anne's aroma! Will use again."
"Perfect midafternoon snack for my staff. So tasty!"
"This was the best idea ever. Everyone loved the pretzels! The size was perfect. The drinks came in a wonderful tote...reusable as well."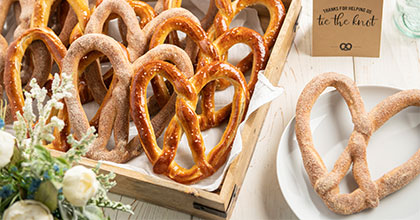 Make your wedding day pretzel perfect

Cocktail hour snack, late-night treat, or wedding favors, our heavenly pretzel snacks are the solution to savoring wedding moments.